Doc says you should check your dental insurance to avoid bad surprises.
1) If I have dental insurance, can I see you? Or, do you take my dental insurance? How do I know what they pay and if there is a portion I must pay. If so, how much do I have to pay?
While all this insurance information is available from your employer, it can be confusing, especially if the employer constantly changes insurance plans. It is nice when the dental office staff offers to determine your dental benefits before you arrive for your initial appointment.
2) If I need extensive dental work, do you have photos of patients you've treated with similar problems before and after?
Ideally, the dentist can show you these photos and provide names and telephone numbers of other patients who have similar treatment and enjoy talking about their experiences.
3) Can I budget or finance the treatment I need?
Treatment can often be paced or done in phases to accommodate a patient's budget or the office should be able to provide the names of outside financing firms which permit treatment to be done now and financed for up to five years if necessary.
4) If I have a specific problem, can I just have that taken care of now?
Most dentists realize a patient's chief complaint should be addressed first.
However, if the dentist sees an issue that is potentially serious or even more serious than the patient's chief complaint, he should apprise the patient of this finding.
5) If I am anxious about having dental treatment, what can you do to help me?
While every dentist offers local anesthesia (novocaine type local anesthetics), some offices offer nitrous oxide (laughing) gas as well as strong but safe oral medications to induce a state referred to as "Oral Conscious Sedation". Using these methods, even the most anxious dental patient can receive the care they need no matter how extensive their problems.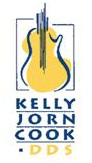 Kelly Jorn Cook, DDS
3800 W Ray Rd, Ste 19
Chandler, AZ  85226
Phone: (480) 899-4477
Https://www.KellyJornCook.com
Outstanding service and dental work. We Rock n Roll in Cosmetic, Family, and Restorative Dentistry.