The term Full Mouth Rehabilitation is often mistaken. But what does it mean?
Full Mouth Dental Rehabilitation is any situation where most and typically all the teeth in a jaw, upper or lower, and commonly both require extensive dental prosthetic restorations (crowns, veneers, even dentures) to return a person to normal comfortable chewing function with an attractive smile.
In most typical restorative cases, a person may need an individual tooth repaired or even a few consecutive teeth. Problems such as these can often be treated individually or in a "piecemeal" fashion, as there is no significant change in the biting relationship between those teeth being restored and the adjacent teeth.
A person with many severely damaged or missing teeth may lose the normal bite relationship between the two jaws. The upper and lower jaws virtually collapse into each other due to a lack of back teeth to support the jaws. The individual loses the vertical space between the jaws because of this collapse of the bite. In such cases, the correct bite needs to be re-established. The dentist obtains accurate molds of the teeth and bite relationship records between the jaws. From this information, a dental lab can fabricate provisional temporary restorations to correct a faulty bite relationship and re-create a usual pleasing smile. This situation requires that all the teeth in one or both jaws be altered simultaneously. The dentist should not send a patient home with a correct bite on only one side of the mouth. Both sides of the mouth and the front or anterior teeth need to be modified to facilitate this one-day total change, hence the term "Full mouth rehabilitation. "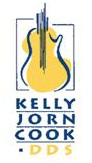 Kelly Jorn Cook, DDS
3800 W Ray Rd, Ste 19
Chandler, AZ  85226
Phone: (480) 899-4477
Https://www.KellyJornCook.com
Outstanding service and dental work. We Rock n Roll in Cosmetic, Family, and Restorative Dentistry.